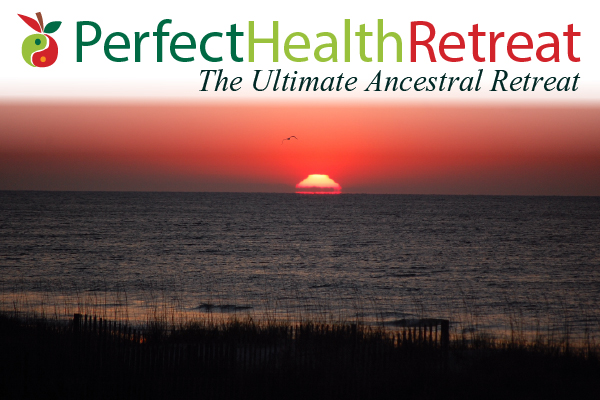 Come to a luxurious setting on one of America's most magnificent beaches to experience a special vacation, a week of delicious food and healthful living, and an education that will prepare you for a lifetime of superb health.
A Perfect Health Retreat offers:
A daily educational program led by Paul Jaminet that comprehensively explains the dietary, nutritional, and lifestyle program that has grown out of the Perfect Health Diet.
Personal health coaching before, during, and after the Retreat from Paul Jaminet and Laura Schoenfeld, including personalization of the PHD advice and troubleshooting of health issues.
Cooking instruction and delicious Perfect Health Diet food prepared by Shou-Ching and her team of supporting chefs. Guest chefs have included Russ Crandall, author of The Ancestral Table.
Three daily movement sessions led by Perfect Health Retreat trainers, covering modes of movement appropriate for early morning, late morning, and afternoon, plus a one-hour one-on-one postural, gait, and breathing assessment with Head of Movement Jae Chung. Our movement classes provide a comprehensive course in how to move, exercise, and heal.
A nightly class in relaxation, stress relief, and healing.
Free time to enjoy the beach, ocean, heated salt water pools, salt water hot tubs, and other amenities of two luxurious beachfront homes.
Perfect Health Retreats have compiled a remarkable record of transformative health improvements and dramatic weight loss.
For more information, listen to these podcasts:
And visit these pages:
We are taking reservations now for the next Perfect Health Retreat to be held April 30 to May 7, 2016. Don't miss this opportunity! To inquire, please contact Paul Jaminet at paul@perfecthealthretreat.com and 617-576-1753 or Whitney Ross Gray at whitney@perfecthealthretreat.com and 910-763-8530.

Perfect Health Retreat … 254 N. Front St, 4th Floor, Wilmington, NC 28401 … 910-763-8530.
Copyright © 2014 PH Retreat NC, LLC. All rights reserved.