We've learned enough in the last two years to revisit the supplementation advice from our book, and toward that end I am starting a series on micronutrients.
I've recently been looking at some papers studying the effects of food fortification with micronutrients. These changes provide a sort of "natural experiment" which may provide insight into the benefits and risks of supplementation.
Fortification of Food
Grain products are the most important category of fortified foods. Industrially produced baked goods must generally use enriched flour, and Wikipedia ("Enriched Flour") tells us what they're enriched with:
According to the FDA, a pound of enriched flour must have the following quantities of nutrients to qualify: 2.9 milligrams of thiamin, 1.8 milligrams of riboflavin, 24 milligrams of niacin, 0.7 milligrams of folic acid, and 20 milligrams of iron.
This is an ironic choice of nutrients. While thiamin and riboflavin are harmless, niacin, folic acid, and iron are three micronutrients we recommend NOT supplementing in the book. Another nutrient we recommend NOT supplementing, vitamin A, is also a fortified nutrient, although not in flour.
Perhaps not even for that!
A history of nutrient fortification over time can be found at this USDA site. Enrichment has a long history, but the amount of fortification has increased substantially since the 1960s. Enrichment mixtures were added to rice, cornmeal/grits, and margarine beginning in 1969, and to ready-to-eat cereals, flour, and semolina beginning in 1973. Inclusion of high levels of folic acid in all enriched foods became mandatory in 1998.
You may have noticed that when putting raw rice in water, a white powder comes off the rice. This is the enrichment mixture which contains folic acid. According to the American Rice Company (hat tip: Matthew Dalby),
The enrichment mixture is applied to rice as a coating. Therefore, it is recommended that rice not be rinsed before or after cooking and not be cooked in excessive amounts of water and then drained. The enrichment … would be lost.
This is useful information: We can remove the enrichment coating by rinsing rice before cooking. That may turn out to be a good idea!
The Contribution of Fortification to Nutrient Intake
Using USDA data for the four nutrients most likely to be harmful in excess, I made up a chart of the contribution of fortified nutrients to total nutrient intake among Americans. It looks like this: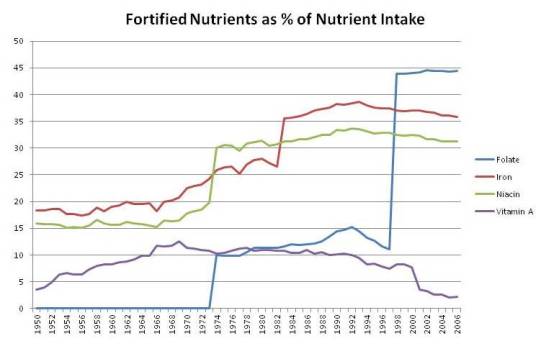 You can see sharp rises in fortified niacin and folic acid in 1973, in iron in 1983, and again in folic acid in 1998. By 1998, folic acid in fortified foods constituted 44% of all dietary folate, and enrichment mixtures provided one-third of all iron and niacin. Fortified vitamin A provided about 10% of all dietary vitamin A from 1964 through 2000.
Folic Acid
Here is a chart of per capita daily intake of fortified folic acid plus natural food folate in the United States since 1950: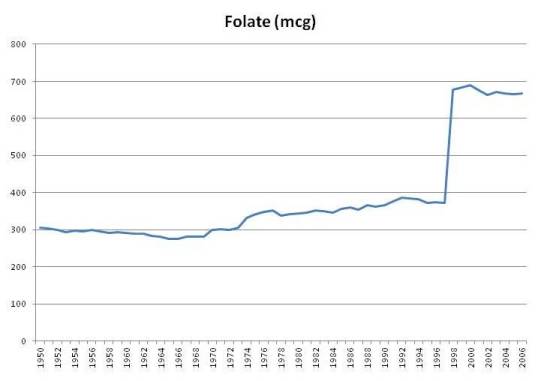 Folate intake from foods has always been around 300 mcg per day, and jumped sharply when folic acid intake became mandatory in 1998. The USDA estimates that intake of folate, including folic acid, jumped from 372 mcg per person per day in 1997 to 678 mcg in 1998, and has remained above 665 mcg ever since (source).
For those who eat a lot of wheat products, intake may be even higher. A pound of enriched white flour has 770 mcg folic acid along with its 1660 calories. If Americans were getting 372 mcg folate from food prior to folic acid fortification, then someone eating a pound of enriched wheat products per day would be getting about 1,142 mcg folate from all food sources.
It's not uncommon to eat substantial amounts of enriched wheat. The typical American eats 474 g (1800 calories) carbohydrate per day. Most of that is from enriched grains. Those eating industrially produced breads, cookies, crackers, and breakfast cereals may have a very high folic acid intake.
Add in a multivitamin – most multivitamins have 400 mcg and prenatal vitamins have 800 mcg – and a sizable fraction of the population has a folate intake of 1,500 to 1,900 mcg per day, 1200 to 1600 of it as synthetic folic acid. This is well above the tolerable upper limit (UL) for folic acid of 1000 mcg (Wikipedia, "Folate").
Averaged over all Americans, folic acid from fortified foods comprises 44% of all food-sourced folate, but for Americans taking a multivitamin folic acid becomes 65% of all folate and, for those taking a prenatal vitamin, 75%.
There are several potential health problems that could arise from excessive intake of folic acid, and I'll explore a few in this series.
Iron and Niacin
Iron intake has risen by about 50% due to fortification: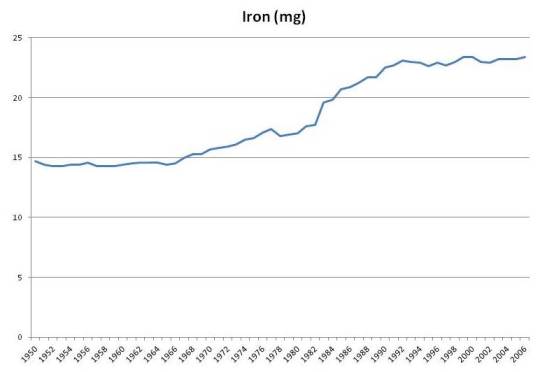 Niacin intake has also risen about 50%: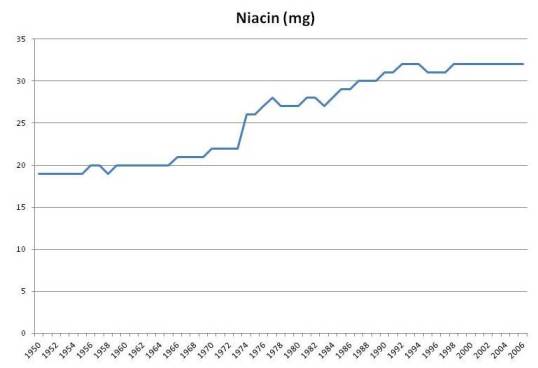 These two nutrients have similar concerns:
An excess of each promotes infections. Niacin (in the NAD+ form) is the rate-limiting factor in bacterial metabolism. Iron is a critical mineral for oxygen handling and is needed by most infectious pathogens; in fact the immune response tries to lock up iron in ferritin during infections.
Both niacin and iron are involved in oxygen handling during metabolism and an excess of each can aggravate oxidative stress.
Vitamin A
Although fortification never increased vitamin A intake by more than 10%, it may serve as a marker for consumption of artificial sources of vitamin A from supplements. Moreover, total food intake of vitamin A was apparently affected by fortification; food intake of vitamin A rises in the 1960s when fortification was growing, and falls after 2000 when intake of fortified vitamin A decreased: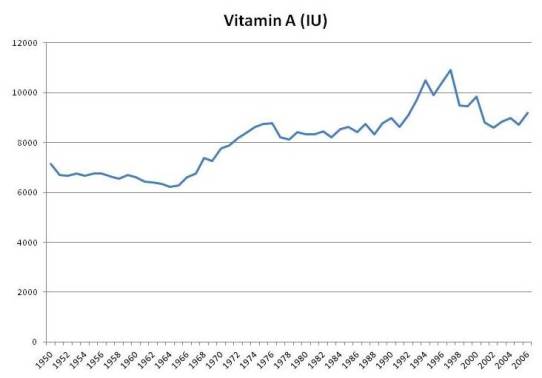 In the book we noted studies showing that people whose intake of vitamin A was above 10,000 IU/day tended to have higher mortality. This was most commonly observed in people taking multivitamins.
There was a period of enthusiasm for vitamin A supplementation between the 1960s and 2000. Multivitamins had more vitamin A in that period. After studies showed negative results, the vitamin A content of multivitamins was reduced.
It is possible that the source of problems may not be vitamin A per se, but degradation products of vitamin A. I've previously blogged about how vitamin A plus DHA (a fatty acid in fish oil) plus oxidative stress can produce highly toxic degradation products (see DHA and Angiogenesis: The Bottom Line, May 4, 2011; Omega-3s, Angiogenesis and Cancer: Part II, Apr 29, 2011; Omega-3 Fats, Angiogenesis, and Cancer: Part I, Apr 26, 2011).
Naturally occurring vitamin A in foods is located in lipid fractions and protected from oxidation by accompanying antioxidants (eg vitamin E) and oxidation-resistant lipids. Vitamin A from fortification is not so carefully protected. The Food and Agriculture Organization of the United Nations comments:
Foods which have been successfully fortified with vitamin A include margarine, fats and oils, milk, sugar, cereals, and instant noodles with spice mix. Moisture contents in excess of about 7-8% in a food are known to adversely affect the stability of vitamin A. Beyond the critical moisture content there is a rapid increase in water activity which permits various deteriorative reactions to occur. Repeated heating, as may be experienced with vegetable oils used for frying, is known to significantly degrade vitamin A. The hygroscopic nature of salt has prevented its use as a vehicle for vitamin A fortification in countries of high humidity. In trying overcome this problem, a new vitamin A fortificant, encapsulated to provide an additional moisture barrier, was evaluated with limited success. The cost of using highly protected fortificants can be prohibitive in many cases.
There aren't many foods that don't contain 7% water, or acquire it after fortification, so degradation is a real concern.
Vitamin A in multivitamins may also be exposed to degradation. The possibility of vitamin A degradation, especially in combination with DHA from fish oil and oxidative stress, is why I'm skeptical of the health merits of fermented cod liver oil.
Conclusion
I think exploring the effects of fortification will be an interesting topic.
We will consider whether fortification may play a role in various diseases that have become more common since 1970 or 1998, such as obesity, diabetes, and autism.
And we will consider what the health effects of food fortification may tell us about how to optimize micronutrient supplementation.