Over at Psychology Today we've added a new post: "Violence: Are There Dietary Causes?"
There we consider evidence that violence has recently become prevalent — especially in the form of indiscriminant murderous rampages, as in this data set collected by Peter Turchin: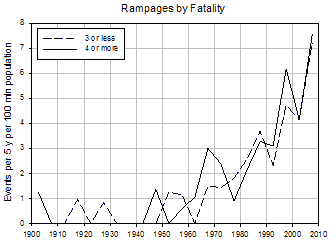 The magnitude and timing of the increase in murderous rampages per capita looks remarkably similar to that of the obesity epidemic. Could they be related? Head over to Psychology Today for our take!