When we want a dinner that's easy and fast to cook, we often turn to shrimp. Here's a typical shrimp dinner.
We've been cooking a lot with ceramic stoneware as it is easy to clean and won't release any toxins into food. We start by warming the pot under medium heat and adding 2/3 stick butter, 3-4 crushed garlic cloves, and salt and pepper: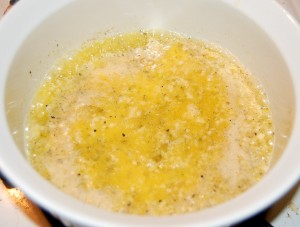 The shrimp should be thawed, cleaned and patted dry. Although it's not necessary, we coated them in a homemade gluten-free flour (rice flour, potato starch, and tapioca starch).
As with our Pan-Seared Scallops, we recommend adding them individually to the pan so that you can keep the butter hot and sear the shrimp's surface.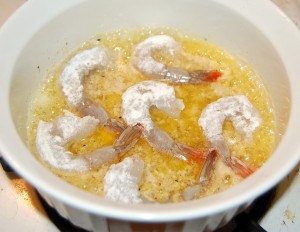 It doesn't take long to sear the surface – about 1 minute per side on medium heat. Here we've flipped three of the shrimp: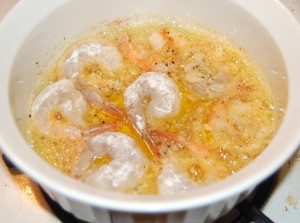 The advantage of searing and brief cooking is that the shrimp will retain water and be plump and juicy. Overcooking makes them dry and tough. As with most meats, for health purposes it is enough to cook the surface, where the germs are.
Continue multiple rounds of cooking until all the shrimp are done. When you're done with the shrimp, there will be oil and garlic in the pan which you can use to cook a vegetable. Here's our pan: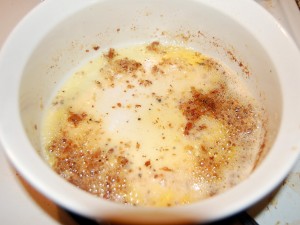 To which we added spinach: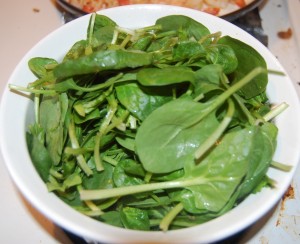 The spinach loses a lot of volume as it cooks. Soon after adding the spinach, you can turn the heat off or down very low because the ceramic pot retains heat for some time.
Here is how the spinach and shrimp look when served: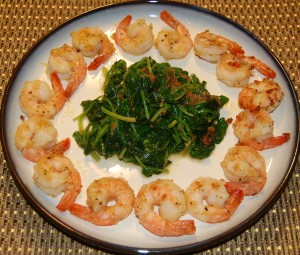 Add in boiled potatoes with butter or sour cream, and you've got an easy and nourishing PHD meal!